Hi, All
Ooi!!!! , what is this?
and this...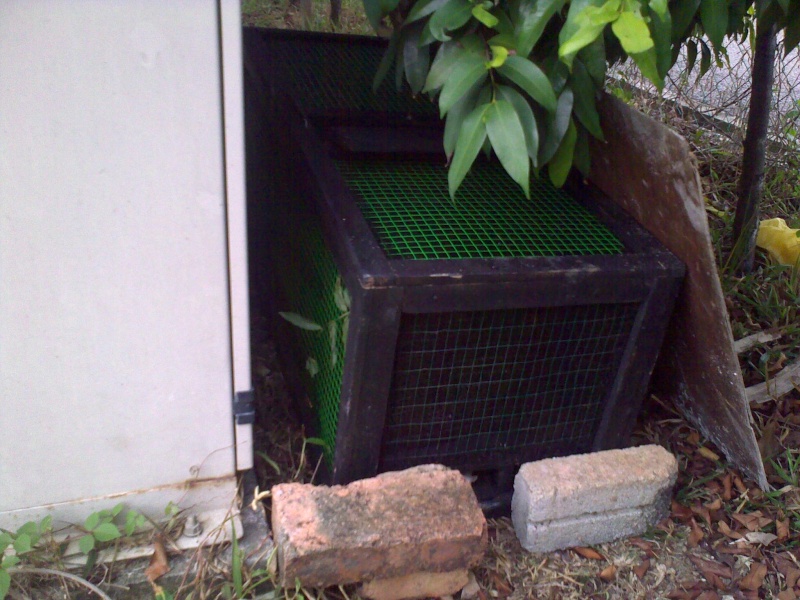 HAH! How come got TIKUS one? What is this TIKUS doing here?
OOOH....Now I know..Snake Trap!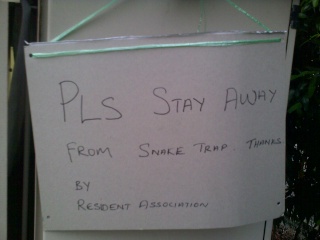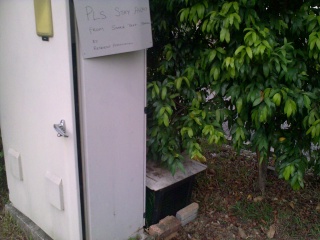 Ok, the whole story is like this.
Since some time back, there were numerous sightings of snakes and one of our resident's snake was bitten to death by a copra.
Our RA met a couple of times together with the residents to see what can be done. We decided to approach the Wild Life Dept. for help.
When the Wild Life Dept staff came over about 2 weeks back, they said that they could not do much to help as the area within our precint is too vast and also they commented that our park was far too clean. The snakes probably came from outside the perimeter wall (which we know very well). They came in Palma to look for frogs or rats. (So dont think of keeping rats oK!) The only thing he could do was to help us to make a Snake Trap and then see how lucky we are. Mr. President asked him how soon can it be done since this is an urgent matter and we are prepared to sponsor the cage. He could not commit. Judging from the way he talked, I was thinking..."aiya.. government talk only lah. sure wont happen one". I was TOTALLY wrong. Sorry..
Much to our surprise, our President received a call from the supervisor yesterday that he has got the cage ready for us and this is how the story come about..
For info, the cage is located next to the waste treatment plant.
TO ALL PARENTS
PLEASE REMIND YOUR KIDS TO BE CAREFUL. DO NOT TOUCH THE CAGE & DO NOT REMOVE IT. It is going to cost us RM150 if we lose it.
ADDITIONAL INFO
Snakes could be breeding from:
(By the way, all these potential breeding holes had been filled up with stones and earth by Paramount after our complaint.)
Snakes can also hide within "Home Grown Forest" and lalang in the compounds of the unoccupied houses. We approached Paramount to contact those house owners to clear out all those rubbish. So far I think Paramount was not successful.
We sincerely hope that the above cage will bring in some positive results. If it is proven useful, than we are going to consider having a few more to be located at different locations within the precint.
One Question though:
IF WE ARE PUT MORE CAGES WITH MICE INSIDE, WILL IT ATTRACT MORE SNAKEs TO OUR COMPOUND?
How it is your chance to put your thought to this question.
HAHA, my turn to have a light moment for myself after this long writing and posting of the above images. (By the way this is the first time I am successful in learning how to post images in this forum. I am been trying for so many times. Thank you, Wealthraider for helping me. I thought I was very IT savy.... aih..no lah. got to learn some more.KEKEKE)
Hi Jean Pierre, Wealthraider, what are we going to do with the snakes we catch (if there is any)?
You see my Kopitiam could not get off the ground yet as Ash has gone to the Asian Food Channel. Dolphine is no longer interested to be my food critic and Jonos is gone...

What do you think I should use the snake meat as my new recipe ah?
Do you think they are better to be BBQ, or Fry, Steam Or even Rendang them?
I need you urgent reply PLEASE if not you will never hear from me again.


Regards
JDdots